Disney and Imangi Studios present Temple Run: Oz – a brand new endless runner inspired by Temple Run 2 and the film Oz the Great and Powerful. Play as Oz and outrun the shrieking flying baboons as you turn, jump and slide your way across the land. Begin yourcexhilarating adventure now and see how far you can run!
NEW FEATURES
• Stunning environments inspired by the film – explore them all.
• Fly in a hot air balloon – earn even more coins.
• Explore different locations in Oz –
follow sign posts!
• The environment changes as you run – test your reflexes.
• Compete in weekly challenges – beat your friends!
What critics are saying about Temple Run 2:
• "One of the best-looking endless runner games..." – ArcadeSushi
• "More beautiful, dynamic, and intense than the original." –
SlideToPlay
Requires Android : 2.2+
Steps to Install :
1.Just Download and install apk & Enjoy!!!
Comment below if u have any problem;-)
SCREENSHOTS :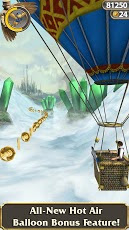 Download
Game Temple Run Oz
click here (27MB)